Games Fleadh preview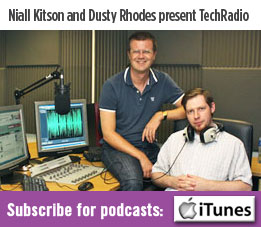 The latest VR systems are here and one of them is being put to amazing use in Lucan. We also have stories on better broadband for rural Ireland, and LIT's Dr Liam Noonan lifts the lid on next week's Games Fleadh.
To never miss an episode of TechRadio subscribe in iTunes, Soundcloud, Stitcher, Spreacker or paste our RSS feed into your podcatching software of choice.
Show notes:
For more on Games Fleadh visit the official website
Eir's broadband plans in detail
What Samsung are getting up to in VR with Sherry FitzGerald
Microsoft's HoloLens in action
Facebook's German troubles