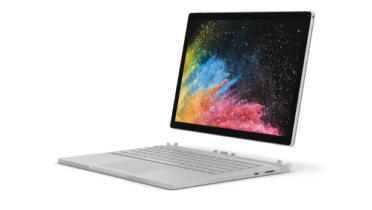 Hands On: Microsoft Surface Book 2
Pro
The Surface line of tablets was expanded in 2015 with yet another slightly oddball variant: the Surface Book.
The Surface Book was a Surface style tablet that was detachable from a base that allowed the combined device to perform as a top of the line laptop. It featured an innovative hinge that, combined with the detachable tablet, allowed multiple viewing and usage postures.
Both components had batteries, but the base also held a GPU that allowed the whole thing to perform well enough to play contemporary games.
In October of this year, the second version was launched and it is even more of a powerhouse than previously.
Marques
First released variant was a 13.5" or 343mm version but a 15" or 381mm is now available, with a slight improvement in specs, namely an upgrade of the GPU.
The Surface Book 2 (SB2) 343mm version is available in several variants, from a dual-core Intel Core i5 with 8GB RAM, to an i7 quad-core with 8GB RAM right up to a quad-core i7 with 16GB RAM and 1TB of SSD storage. The base of the 343mm variants hoses the GPU, an impressive Nvidia GeForce GTX 1050 with 2GB of DDR5 dedicated VRAM, whereas the 381mm variants get a GTX 1060.
The tested model was a quad-core i7 with 16GB of RAM and 1TB SSD.
The first thing that strikes on taking out the device is the high quality fit an finish of the chassis. The magnesium alloy allows for precise features, nicely bevelled edges and a reassuring feel. The "dynamic fulcrum hinge" has been improved and even with the device powered off completely, the screen release button works reliably and intuitively.
Speaking of the screen, it is as one has come to expect from the Surface line—superb. On the tested model, it is the 343mm (13.5") PixelSense  display at 3000 x 2000,  (267 PPI), featuring 10-point multi-touch. It produces vibrant colours and deep blacks, with no change in capability when docked or not.
The i7 variants have dimensions of 312mm x 232mm x 15mm, and a weight starting from 1.642kg, all of which is very manageable in a laptop. However, with the screen detached, it feels very light at 718g and is easily managed with one hand.
All of the usual features are here, from the Windows Hello facial recognition camera to a forward-facing 5MP standard camera and rear facing 8MP one. A raft of sensors include ambient light, proximity, accelerometer, gyroscope and magnetometer. There is a full size SD card reader, two USB 3.1 ports and the Surface Connector. Gone is the MiniDisplay port in favour of a USB Type C connector. On the screen component is a standard 3.5mm headphone jack, the only connector present.
Type C first
The USB Type C is a first for the Surface line, but while some have lamented the loss of the MiniDisplay port, the Surface Dock still provides multi-screen capabilities, via the Surface Connector.
It could be argued that not being able to connect an external screen directly to the SB2 is a flaw, but there are already reasonably priced adapters that go from USB Type C to HDMI and such, so it is not so much of an issue.
Another criticism has been the omission of the Surface Pen, it now being an extra. Again, many people would not have use for the pen, so it is possibly a sensible approach to take.
In use, the SB2 is as you would expect from any quad-core contemporary chip supported by a bucket of RAM and a vast SSD. It is smooth, responsive and fast. Applications load almost instantly and perform fluidly, even when manipulating large spreadsheets with thousands of lines of data, while having Outlook, Word, a browser (or two) with dozens of tabs, music and PowerPoint all open.
In fact, so difficult was it to tax the device that a game demo was downloaded to properly stretch the capabilities. While extensive benchmarks have been posted online, this hack generally finds that a good game with out of the box settings is a good measure of overall performance. With some 45GB of Destiny 2 demo downloaded (I recall when Quake was less than 10Mb!), I dived in and completed the first mission without even noticing that it was churning out a decent 60 odd frames per second at 3,000 x 1,955 resolution.
That may not sound terribly relevant in a business oriented review, but it indicates that even with the likes of video editing, 3D rendering or AR/VR usage, this is a powerful device that will do it all.
Combinations
The combination of top featured laptop, right down to the 105mm x 70mm trackpad, as well as the full touch interface, means that this is a multi-talented, multi-usage machine that fulfils all rolls. It is as powerful as a desktop, as intuitive as a pure tablet, and more versatile than any laptop.
However, all of that capability, especially dressed as sharply as this, comes at a price.
The tested variant retails here for €3,549 including VAT. That is a lot.
Comparisons
By comparison, a MacBook Pro with a  similar processor, but half the SSD storage costs €3,399. So the SB2 is not wildly outside of expectations, but it is still quite a hefty price tag for a laptop, albeit, one as diversely capable as this. As this is firmly aimed at top level professionals, another way to look at it is the five-year hardware cycle. From that perspective, it is a mere €710 per year, which isn't that bad at all.
And that is it. The Surface Book 2 is probably the most capable Windows 10 laptop on the market, but is competitively priced in the market. So, if you can justify the cost, the device delivers. Simple as that.
Microsoft.com/en-ie/store/surface-book-2/
TechCentral Reporters