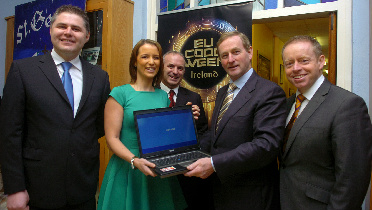 Taoiseach revisits St Gerald's College to launch Europe Code Week
Life
This morning An Taoiseach Enda Kenny revisited his Alma Mater, St Gerald's College in Castlebar to officially launch Europe Code Week, a Europe-wide initiative promoting programming for all ages, happening from 25-30 November.
The Taoiseach who was accompanied by Ciaran Cannon, Minister for Training & Skills at the Department of Education was welcomed by School Principal Daniel Hyland, Julie Cullen, Irish Ambassador for Europe Code Week and Bernard Kirk, director of The Galway Education Centre, the organisers of the event.
Europe Code Week aims to raise awareness of and connect individuals, groups and companies interested in coding or learning about computer programming. It's an open source project so anyone can join in and organise a coding event throughout the week. Coding is being heralded as the new literacy and the increased need for technology education has never been more keenly felt than by today's Irish students and graduates.
"We know there is a skills gap in this area across Europe. Through the Grand Coalition for Digital Jobs, Commission President José Manuel Barroso called on Europe's digital businesses, governments, training and education sectors to join a Grand Coalition for Digital Jobs to address the up to 900,000 job vacancies expected to exist in Europe in information and communication technologies by 2015," said the Taoiseach. "Ireland needs to meet this challenge head on and ensure our students have the opportunities though education to develop these key skills. We have done much to meet this challenge. Developing ICT skills in students will lead to graduates with the knowledge and skill-sets to meet the needs of a modern economy."
Julie Cullen, leader of the Irish Europe Code Week team, said; "The goal is to see Ireland as the European 'hub' for coding. With over 10,000 people already signed up to participate over Europe Code Week here in Ireland – we are well on target to achieve our goals but we are still calling for everyone to check out their local community to see what is happening and to get involved."
TechCentral Reporters