A taste of art-tech with EAT's Julie Martin
Radio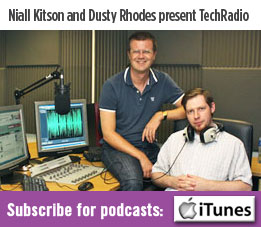 In October 1966 30 engineers from Bell Labs and 10 artists gathered at Armory Hall in New York for an exhibition that would prove a turning point in the relationship between Art and Technology. Nine Evenings brought together artists such as Bully Kluver, John Cage, Robert Rauschenberg and Deborah Hayes to show how technology can change the way we see and interact with the world. From this event sprung the collective Experiments in Art and Technology (EAT), which continued to promote the value of art to scientists and engineers until the early 2000s.
This week Niall met with EAT periodical editor Julie Martin at the Irish Museum of Modern Art to talk about the collective's work and legacy.
To never miss an episode of TechRadio subscribe, comment and rate us on iTunes, Soundcloud, Stitcher, Spreacker or paste the RSS feed into your podcatching software of choice.
Julie Martin visited IMMA as part of the digital_self exhibition open until 25 February 2018.