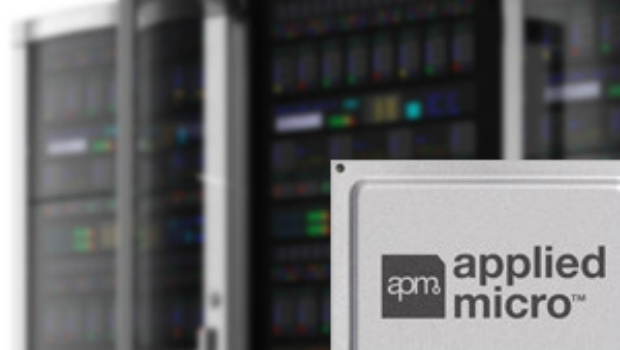 AppliedMicro's 64-core chip could spark ARMs race
Pro
A decade-old race to crank up core counts in x86 chips may have lulled, but the competition has just started picking up in ARM processors.
AppliedMicro, which is making 64-bit ARM processors, will put up to 64 cores in its upcoming X-Gene 3 server chip, said Gaurav Singh, vice president of engineering and product development at the company, during the Hot Chips conference in Cupertino, California.
The closest rival to X-Gene 3 will be chip maker Cavium's ThunderX. The ThunderX is a 48-core ARM server processor and was announced in June.
The X-Gene 3 will be a big upgrade from another version, the X-Gene 2, which will have up to 16 cores. X-Gene 3 will ship to server makers for testing next year.
Adding CPU cores is a power-efficient way to increase processing power. ARM processors are typically used in smartphones and tablets, and AppliedMicro's goal is to put as many low-power cores as possible in a dense server so performance can be increased when customers need it.
"You can increase the performance density," Singh said.
Chips based on the ARM architecture are also smaller, so it's possible to cram more CPU cores inside a dense server. By comparison x86 server chips are bigger, generate more heat, and have to fit within the power limits of a system.
AppliedMicro's goal is to operate X-Gene 3 with up to 64 cores at speeds of up to 3.0GHz in servers that draw up to 160 watts of power, Singh said. The company is targeting its chips for use in web hosting, cloud applications and high-performance computing.
Chip makers started adding cores as an alternative to increasing CPU clock speed, which caused chips to draw more power. The 64 cores in X-Gene 3 tops the core count on any x86 or ARM server chip to date.
Cores
Intel has topped out at 15 cores on its x86 server chip, Advanced Micro Devices at 16 cores on its Opteron x86 chip and eight cores in its upcoming Opteron A1100 chip code-named Seattle, which is based on ARM.
The first multicore chip, Power4, was introduced by IBM in 2001. The core war between Intel and AMD took off in 2004 and slowed down at the turn of the decade. ARM 64-bit servers have not yet shipped, but AppliedMicro has now fired the first salvo on the ARM front.
The first ARM 64-bit servers will come out in a few months, and "absolutely by the end of the year," Singh said.
The first servers will come with the eight-core X-Gene chip, which was introduced in 2011. AppliedMicro will bring performance improvements to X-Gene 2 and X-Gene 3, while shrinking the chip size, which will make it possible to keep adding more cores while keeping power draw in check, Singh said.
Singh admitted the X-Gene has taken longer than expected, but the company's been putting in a lot of effort to develop the software and hardware ecosystem.
"We had to open a lot of doors to prove that we were a viable alternative," Singh said. "We had to drive a lot of that ourselves, just to make sure the debuggers, operating systems and everything were up and running."
Intel, Nvidia and AMD ship supercomputing chips with 60 cores and higher, but those are considered co-processors that work alongside main CPUs.
Agam Shah, IDG News Service